Guitar Articles
Playing Guitar – What Does It Take
Most struggling guitarists are their own worst enemy. The quickest and easiest way to improve your guitar playing is by using the methods that most prefer to ignore. What does it take to convince you?
Why Learn Music Theory
Do you really need to learn music theory to become a great guitarist? Time to shed some light on an old debate.
Sing And Play Guitar At The Same Time
Singing and playing guitar at the same time. Why is it so difficult and is it something you can improve with a bit of practice?
Pros & Cons Of Guitar TABS
Guitar Tabs are no doubt very handy but a lot of guitarists let them go to waste. Learn how to make the most of them to improve your all round guitar playing.
Natural Talent
Do you need to have a natural talent to become a professional guitarist? Some people certainly seem to have some kind of gift, but how far can you get without it.
Free Jam Tracks

Straight Feel – 12 Bar Blues Jam Track
Twelve bar blues jam track in A with a straight feel

Slow Groove Jam Track – A Minor
Laid back jam track in A minor with a jazzy blues feel.

Rock Jam Track – A Minor
Free jam track in A minor, no chord changes. Handy for practicing scale soloing without worrying about the chord tones.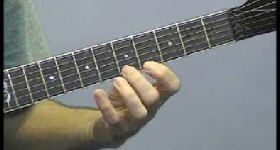 Speed building exercise with free backing tracks and video. One string exercise helps you improve your alternate picking, position shifts, left hand speed and dexterity. And it's fun!

Music theory, two part crash course. The basics really aren't that complicated. Some things just aren't worth NOT knowing. Part one takes a look at the major scale and chord construction.