Learn Ragtime Blues Fingerstyle Guitar with Jim Bruce – Review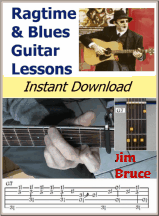 Playing acoustic fingerstyle ragtime / blues guitar is probably the most rewarding of all guitar styles I have ever learned to play. The fullness of sounding like two guitars playing together is something that's hard to beat.
If you have ever wanted to learn this style but never gotten around to it because it just sounds too difficult – then you are missing out for the wrong reasons. Ragtime and blues fingerstyle is mostly not as hard to play as it sounds. Sure, some of it can be difficult, but generally the basics are actually quite easy … and still sound just as impressive. A lot of the sound of fingerstyle blues (especially ragtime) can be something of an aural illusion – there's not as much going on as your ears would have you believe. So what's the best way to get started?
The best way to learn this style is to just jump straight in and learn some songs. Although this it not something for the complete beginner, if you are at an intermediate stage of guitar playing then you should be more than capable of playing acoustic ragtime blues. As long as you can comfortably play common chord shapes and rhythms reasonably well then that should be all you need, along of course with the desire to learn and practice.
When I first got into ragtime blues finger picking, there wasn't much available in terms of videos showing you this stuff. I learned by listening along with a few tabs from books. The biggest challenge I had with this was (apart from being slower than learning from video) where to put your fingers on the fretting hand. It wasn't always apparent whether you should be holding a normal chord shape or doing something else. TABs rarely give this kind of information. I'd get there in the end but it took a while, I'd often find myself putting the book down and coming back to it another time, only to find out the left hand was much easier than I first thought. It was probably a year later that I realised I was working my fretting hand twice as hard as I needed to. What I would have done for video lessons back then!
Okay, so this is supposed to be a review of Jim Bruce's Ragtime Blues Lessons – From Texas to the Delta, I suppose I ought to get to it! I'm always on the lookout for new guitar teaching material (a disease that all guitarists surely understand!) and I stumbled across Jim's course by pure chance. The thing that caught my attention was it looked like a genuine quality guitar course. This is something you rarely find when stumbling across the usual overpriced downloadable stuff for guitar, something of which there is no shortage of unfortunately, but I'll get to that in another rant someday! For now, let's just say Jim's Fingerstyle Blues course is probably the first I have come across that pleasantly doesn't fit this bill. For once, in the world of online guitar tutorials, you are actually getting what you pay for … nice one Jim!
So what do you get?
The course consists of 38 downloadable videos (wmv format), each one showing a complete fingerstyle song broken up and slowed down into sections showing right and left hand close ups. Jim also explains how each song is played along with tips where necessary. Each video is accompanied by a separate printable pdf TAB as well as the chord shapes and each tab section being displayed on screen in the video.
The songs taught vary from artists such as Robert Johnson to Blind Blake covering standard tunings, open G bottleneck and open D. Click here for a full list. There's enough variety to cover the various blues picking styles ranging from the bouncy ragtime feel of Blind Blake to the more conventional blues style of Lightnin' Hopkins and Floyd Council.
If you want to learn how to play fingerstyle blues then there is no better way than jumping straight in and learning some songs. This is one of those styles where you will do better with hands on learning rather than the conventional route of learning basic fingerpicking patterns and exercises, which while useful, don't really show you much in the way of piecing them together. Once you have a few songs under your belt you'll find you can break down some common licks and patterns that work well in other songs. This is great for adding variety and improvising blues fingerstyle.
Overall, Jim's course is one of the best value downloadable guitar learning products I have ever come across. Not only do you get many hours worth of videos showing you how to play all of the songs but, most importantly you get high quality guitar tuition for a style that's not in abundance. Most other download products are simply rehashed content priced at three times their worth.
Jim's lessons are straight up what they say on the tin … no magic, no secret formulas that the pros don't want you to know (Grrrr!), just plain straight talking "how to play fingerstyle blues guitar". In short, it's all you need. Be warned though, you will need broadband to download the videos which weigh in at about 200 to 300mb each, and there's 38 of them!
Guarantee.
Jim offers a no questions asked money back guarantee if you aren't happy with his product, personally I doubt he gets many unsatisfied customers. As sales are handled through Clickbank you can rest assured your transaction and guarantee is safe and secure.
If you are ready to take on fingerstyle blues guitar then Jim's course is going to be hard to beat and I'm more than happy to recommend it.
Click here to purchase or find out more about Jim Bruce's Blues Guitar Picking Course.