Barre chords (or bar chords or whatever way you prefer to spell them) should be mastered by all guitarists. If you know how to find the notes on the fifth and sixth strings then you'll have instant ability to play any major, minor, major seventh, minor seventh and dominant seventh chord, in any key and two positions of the guitar fretboard with just a few shapes to learn.,,,
Bar chords can extend beyond those listed above but these are the most important and they give you enough variety to play most rock and blues songs. Barre (bar) chords are also called moveable chords and this is what makes them so handy to learn. The fact they are moveable chords means you simply learn one shape for each chord type and move it along the fretboard to change it's starting note.
For instance, you already know the common 'E major' shape chord as shown in the diagram below.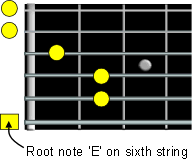 The sixth, open E string is the 'root' or 'starting note' for this chord. If we now move this entire shape up by one fret and use our finger to act as a barre, effectively moving the nut or mimicking a capo, then the chord is now an F major. This shape then becomes the full moveable fingering pattern for a six string major chord.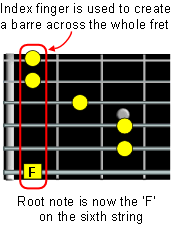 The same method is used to create five string bar chords. The diagram below shows how you move the common 'A minor' shape along the fretboard to create a 'D minor' chord.

That summarises the basics of barre chords. Practice the common five and six string shapes shown below and you'll have most every chord you ever need to play many styles of music. The five and six string notes on the fretboard are shown for reference if you don't know them and a few examples should help clarify things if you are new to bar chords..
Notes on the fifth ( A ) and sixth ( E ) string

Five string barre chord diagrams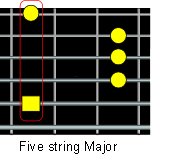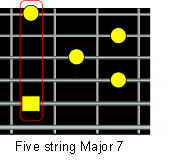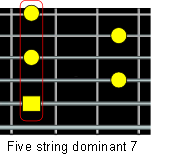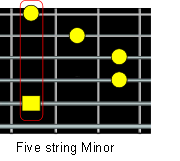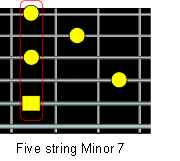 Five string bar chords example 1

Five string bar chords example 2

Six string barre chord diagrams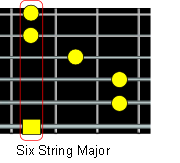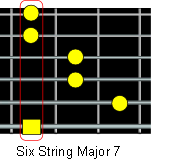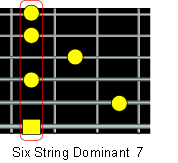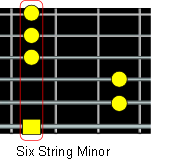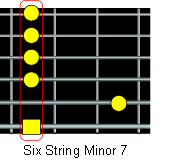 Six string bar chords example 1

Six string bar chords example 2