Guitar Practice Session 2 – The I IV V Progression in C major
In part 1 we broke down the top three strings of the C, F and G major chords around the third fret. Once you have spent a little bit of time on part 1 you can now go about playing around with the bottom three strings.
Part 1 covered the general idea of what you need to look out for and there's no point in repeating that in every session. The diagrams below show you what you need to practice and you can use the same play along tracks as we used previously. If you've jumped in here then go back to the first part to get the general idea.
The notes on the bottom three strings for our three chords don't really fit so easily into the CAGED chord shapes in this position so we'll use a typical major triad arpeggio style pattern, the first, third and fifth note of each major chord. This pattern can be used anywhere on the neck as long as it isn't crossing the G and B strings.
A quick note before we carry on, if you haven't already realised this then it's best to clear any confusion now. 1-3-5 is the scale note positions for each chord with respect to their own related major scale. In other words, the 1-3-5 for the G chord is the 1st, 3rd and 5th scale degrees from G major, not C major that we are working with. If that's confusing then I might suggest reading through the music theory section on this site, rather than waste space with it here. If it's still confusing then ask your questions here or in the guitar lounge.
Play along with the patterns below over the jam track. The greyed note (or green in this case 🙂 ) is there to try and force you into thinking about the chord tones based around the pattern above and centred around the root for each chord, not just starting from the thickest string.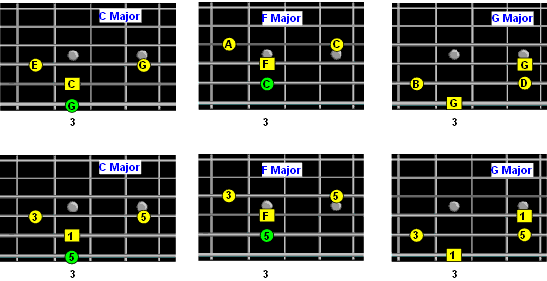 Here they are embedded into the C major scale.

One more thing. Take note that most of the F shape we are using overlaps the E form bar chord. These are the kind of things you should look out for. After a while all these small pieces fuse together to form one large neck pattern that you view as tiny sections, like joining the dots.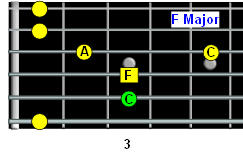 I won't give any audio examples or TABs for this, just use the same ideas as you did in the first part and the same jam track.