What is one of the biggest problems among beginner and amateur lead guitarists?
I listen to a lot of lead guitar jams from amateur guitarists stuck in the rut. I'm not going to waste time here carefully choosing my words, I'll let you decide yourself whether this applies to you or not but I will say this, unless you are truly happy with your playing then it's very likely that some, if not all of this will apply to you.
Most amateur guitarist's solos suck, not because they can't play properly but because they WON'T play properly. Most of you visiting this site probably come here because you are into rock or blues guitar so lets get one very important thing out of the way first, something I repeat many times. The pentatonic scale dominates these genres. Don't get me wrong, learning other scales, chords, arpeggios, theory etc is all good stuff, it's all important, it's all good to know, but what you should not be doing is spending all your time looking for the wrong ways to improve your guitar solos and ignoring the fact that there's a very high probability you are ignoring at least some of the five most important basics of playing any musical instrument.
Now don't hit the back button when I say what these five things are. I know you hear them all the time and it sounds like the same old boring stuff but believe me these are the biggest things that separate amateurs from pro's … Timing, articulation, expression, phrasing and ear. That's it. Not scale notes or runs, not licks and thorough chord knowledge. Most of you will be spending more of your time looking for formulas that you can use to play over chords and scale runs and cool licks, ways to play up and down the whole neck and what not. If you're not paying attention to those five things outlined above then you are wasting your time with everything else.
Take a listen to this short solo.
I planned and threw that together in the same amount of time as it took me to play it. It's not great, it could be better, that's not important. What is important is it's a fairly passable solo, if I pulled that off live on stage then I wouldn't turn many heads but I also wouldn't have been asking Scotty to beam me up 🙂
So what's my point? … The point is this. That short solo contains only six notes as shown in the diagram below from the minor pentatonic scale and nothing else! What's more, ninety percent of it was only using just four notes around the D and G string.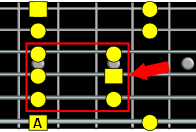 There's a lot of bold text going on in those last few lines because I really can't stress this enough. Many of you will be spending more of your time practicing and seeking out things that have less importance, or at least aren't at the top of your priority list just yet. How much time do you spend really listening to what's actually coming out when you play guitar? If you can't produce something you are at least fairly happy with using only a few notes then you should start making this your priority right now.
By regularly restricting yourself to just a few notes when you practice, it will virtually force you to not only pay attention to your technique but guarantee you will improve much faster. When you spend all your time trying to play up and down the whole neck using every scale you can find, you are guaranteeing yourself a slower progress overall. Restricting yourself to small areas should show improvements within your playing within days.
I chose this simple straight feel twelve bar jam track in A for my example. It's not particularly exciting but it's straightforward and we will be using it for the upcoming lessons which will go through the five techniques in turn. In the meantime, start practicing with that jam track.