The Fretting Hand
In this lesson we'll take a quick look at basic left (fretting) hand position. We all know how cool it looks having the guitar hanging down by your knees or your thumb wrapped over the neck like Jimmy Hendrix. For every guitarist I tell they are holding the guitar wrong, there is always going to be another one that tells me.. "insert-favourite-guitarist" doesn't hold their guitar like that and they can play just fine.
I'm not going to make a lengthy discussion explaining why that is totally wrong because it would be pointless. A lot of guitar teachers will insist there is only one way to hold the guitar and it should not be argued with. With that kind of teaching it's no wonder that so many beginners will argue or dismiss their advice when there is living proof of thousands of guitarists holding the guitar completely wrong and yet have no problems, why should you want to listen to such advice.
While I personally agree with these guitar teachers I do think they lack perspective. With that in mind I would rather pass advice on how to hold the guitar as a recommendation rather than a necessity. In short, here is my advice on how to position the left hand for guitarists.
If you have big goals as a guitarist and want to play a wide variety of styles then work with the recommended methods and spend a lot of time getting it right. There are however some styles of guitar playing that you will be able to do just fine without the regimented techniques, just make sure you realise the difference.
Generally speaking, average blues and rock styles don't need such perfect technique, punk bands hammering out just power chords need it even less. If you are absolutely certain that you will never want to improve your guitar skills in the future then you have no real need to get the left hand working so efficiently, but can you really be that sure?. The thing is it doesn't take that much effort to learn the right way and if you do then you have the best of both worlds. You won't be wasting time learning bad habits and when you just want to look cool, you'll know what your options are.
Playing the guitar with good left hand technique doesn't normally feel natural for the beginner, I will guess this is because the "feel" is too light. Holding the left hand properly should require very little effort and no tension. If you haven't been playing guitar for very long then this will probably sound impossible, it might seem to take a lot of effort to get any clean sounding notes from the guitar, especially if you haven't yet built any calluses in your finger tips.
This lesson isn't going to deal with any actual exercises for the left hand, consider it more of a primer to gain some awareness on how your left hand should feel when playing the guitar. It should also be noted that correct left hand position isn't a one stop solution for every technique. Some techniques like bending and vibrato DO require the hand to grip the neck, but that's another lesson.
Okay. Let's try something. Sit down and rest your arm naturally on your desk or a table and lightly tap your fingers. Don't do anything out of the ordinary, just tap your fingers as though you are sitting there bored or waiting for someone. There is no effort, no tension, no excessive movements and your fingers are most likely rising above the table surface by about a centimetre or two at most. Take notice of how your hand and fingers feel.
Now pick up your guitar and play any scale or finger exercise you like and take notice of exactly what your left hand is doing. How does it feel, how much pressure are you using. I'm pretty certain it's nothing like what you were doing when you was tapping your fingers on the desk but believe it or not, this is the kind of feel we are aiming for.
To achieve fast speeds, dexterity and clean efficient playing you need to have a very light touch, just like you do when tapping on the desk. This takes a lot of practice and it won't happen overnight.
Apart from some general experience there are two main things that make this very difficult for the beginner.
1. The skin in the finger tips is too soft, you need to build your calluses.
2. Most beginners and amateurs hand / arm position is battling against ever achieving this.
The picture below shows the hand placed over the guitar neck as it would be resting on the desk. Try it yourself, rest the guitar on your lap (not mid air like in the picture) and tap the strings, experiment with ways to get a sound out of the string with the least amount of effort possible. It won't hurt you to do this for a few minutes everyday, it will help you to get a better idea of how your hand should feel on the neck.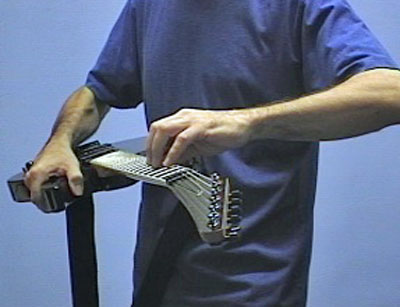 Note that there is a fairly straight line from the elbow to the knuckles. The wrist is not bent and the whole arm is relaxed.
Here are a few more shots of the same thing at different angles.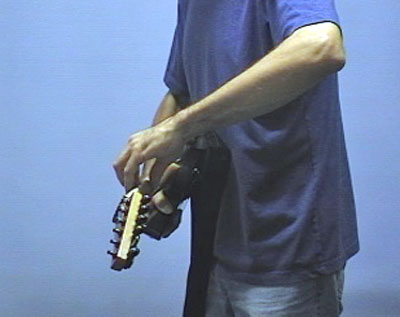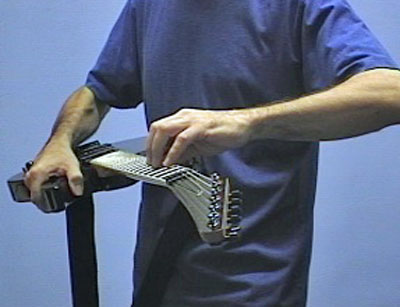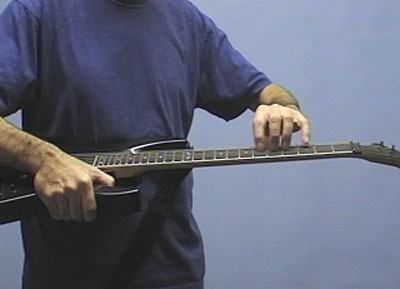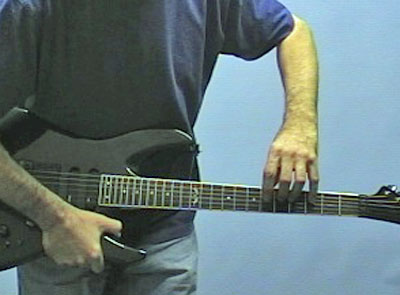 When you hold the guitar normally, it's not so easy to keep a straight line between the elbow and knuckles and maintain the same relaxed feeling in the arm.
The classical position of resting the body of the guitar on the left leg (for right handed players) and the neck up high helps to allow the hand to come in from underneath the neck while maintaining that same straight, relaxed arm. Classical guitarists also rest their left leg on a small foot stall to help get the guitar into this more comfortable position.
Try this yourself, it might take some time to get used to but hold the guitar using the classical method, use a couple of books to lift your leg up a bit or sit on a low chair and try to mimic the same arm / hand position. Don't worry about playing the guitar or getting a sound out of it, just try to get the fingers lightly tapping on the fretboard just how you would if you were tapping your fingers on the desk.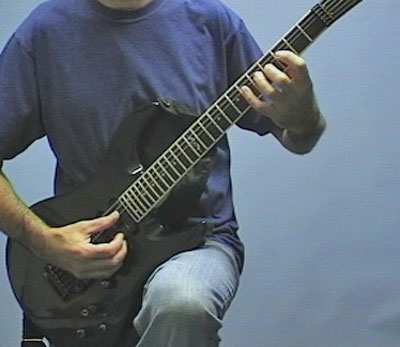 There are a few things you need to take notice of here. To maintain the straight relaxed arm you need to keep a fairly straight line from the elbow to the knuckles. You want your wrist to bend as little as possible. This means you need to find the right position for your elbow. Too close to your body and your wrist will lift up, to far away and your wrist will drop. Here are a few examples of the elbow causing the wrist to bend.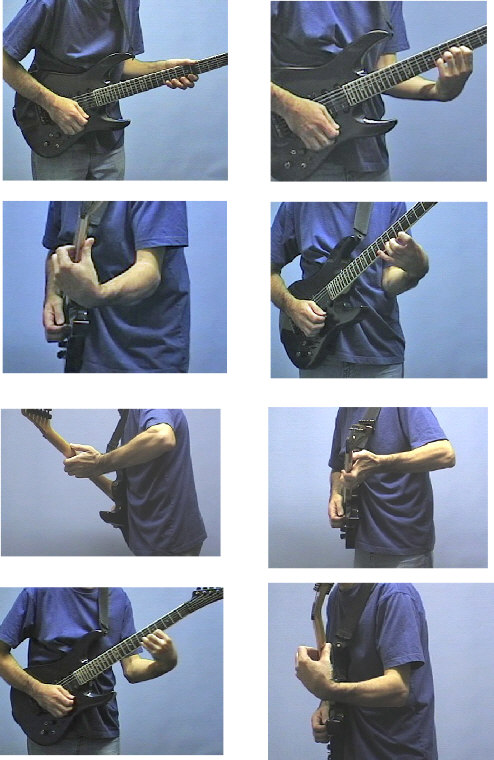 So why do we not want the wrist to bend? If your elbow is in the wrong position then it causes your arm to twist. This obviously causes your hand to twist with it and when this happens you are making your fingers fight against everything you are trying to get them to achieve because you are pulling them away from the frets.
Try is yourself. With the guitar held in a good position, your fingers should be placed evenly over the frets and should be able to lift each finger up and down easily with light taps. Continue to keep your fingers tapping but now twist your arm and bend your wrist about and take notice of what's happening to your fingers. As your wrist bends it tries to pull your fingers away from the frets, making you need to stretch them more and creates a lot more tension. You have just increased the workload required on each finger. Not only will this make the whole thing more difficult it will also tire them out faster and make playing at fast speeds virtually impossible.
Hopefully this gives some insight to what you are trying to achieve. The pictures below show you the left hand in a fairly comfortable position. It's not as efficient as the classical position but a good all round position for holding the guitar while standing.
Try playing a simple chromatic exercise up and down on one string using one finger per fret as in the picture and concentrate on that feeling of tapping on the desk. You don't have to use your right hand to start with, you don't even need to make any sound, just lift your fingers up and down with small tapping motions.
Do this in front of the mirror and watch your arm and hand. Aim for getting the fingers to move only. The arm and hand should not move other than the muscles themselves. When you reach this point, start involving the picking hand and work on getting some clean sounding notes. Still check yourself in the mirror and make sure hand movement is kept to a minimum.
It will seem hard for a while but it's not forever. Before long you will be making everything become easier at an accelerated rate.